BRIEF BIO

Robin Fox, anthropologist, historian of ideas, occasional poet and essayist, is University Professor of Social Theory Emeritus at Rutgers. Born in England in 1934 he was educated at the London School of Economics and Harvard, with post-doctoral work at the Stanford University School of Medicine. He did fieldwork among the Pueblo Indians of New Mexico and Arizona, and with the Gaelic-speaking Irish of Tory Island off the coast of Donegal in Ireland. He also worked with primate groups (Macaques and Vervets) in Bermuda and the Caribbean. After teaching at the universities of Exeter and London in the UK, where he revived Edward Westermarck's ideas on incest avoidance (the "Westermarck Effect") he came to Rutgers to start up its department of anthropology in 1967. With his colleague Lionel Tiger (Men in Groups) he was a director of research for the H. F. Guggenheim Foundation for twelve years and helped start up the revolution of ideas about social behavior now known as Sociobiology. Together they wrote The Imperial Animal (1970), which introduced modern evolutionary and ethological thinking to the social sciences. He has written or edited nineteen books, the best known of which is probably Kinship and Marriage:An Anthropological Perspective (1967), which in all its editions and translations remains one of the most widely used anthropological texts in the world. His autobiography (of his first 40 years) was published in 2000 as Participant Observer: Memoir of a Transatlantic Life. His latest two books are The Tribal Imagination: Civilization and the Savage Mind (Harvard 2011) and Shakespeare's Education: Schools, Lawsuits, Theater and the Tudor Miracle (Laugwitz Verlag 2012), reflecting his life-long interest in the Shakespeare authorship question. He currently works on the archaeology of the Calusa Indians in SW Florida, and the light this can shed on the origins and failures of complex societies. In 2013 he was elected to the National Academy of Sciences in the anthropology and evolutionary biology sections.

"We are a species among all the others, rather a special one, but one that will be judged like the others. We have no dispensation from nature; we are not cut loose from the requirements of natural selection; intelligence is not peculiar to us, nor does it guarantee our superiority or our success; we must measure up or join her list of interesting but extinct experiments in living and reproducing. Our only uniqueness is that if we go, it will be in full consciousness of what we do, which is no compliment to our uniqueness."

From: Final paragraph of The Red Lamp of Incest: An Enquiry into the Origins of Mind and Society.

Apes with existential questions

And did some sly, malicious god
when an ape first stood and faced the sky,
prepare a two-edged gift, a rod
it sought to cure this hubris by?
It did, and so the creature choked,
then straining through its tears it croaked
the first, pathetic "why?."

From: The Passionate Mind: Sources of Destruction and Creativity (reproduced in The Character of Human Institutions.)

LONGER BIO

The following section starts as a publisher's summary, so please bear with the impersonal style.

Robin Fox was born in the Yorkshire Dales at the height of the Great Depression in 1934. His first home was in the Brontë village of Haworth (the hamlet of Crossroads) in the Pennines of West Yorkshire. He had very little formal schooling during WWII, moving all over England with his soldier father (ex-Indian Army - landed in Normandy on D2) and his mother, then an army nursing aide. (See the dedication to Kinship and Marriage.) The Church of England, the Army, public libraries, the Cubs and Scouts and the BBC, substituted for school. He survived a close encounter with a German bomb in Hull, then through a series of scholarships (including one to the Grammar School in the village of Thornton where the Brontës were born and Billie Whitelaw was a pupil) he made his way to the London School of Economics in1953 (State Scholarship). He did his undergraduate degree in Sociology (B.Sc. 1st class honors) including a heavy dose of Philosophy (Karl Popper, Ernest Gellner, Morris Ginsberg) and Social Anthropology (Raymond Firth, Isaac Shapera, Maurice Freedman.)

He went to Harvard University for graduate work in the Department of Social Relations (Clyde Kluckhohn, Dell Hymes, Paul Friedrich) and - through the good offices of Evon Vogt - found himself in New Mexico studying language and society among the Pueblo Indians. He concentrated on the Pueblo of Cochiti, on the Rio Grande, on which he wrote his Ph.D. thesis (London University - external examiner Edmund Leach) a revised version of which was published as The Keresan Bridge: A Problem in Pueblo Ethnology, 1967. He worked for one year as a research associate with John Whiting at the Harvard Laboratory of Human Development (Palfrey House).

He returned to England where he taught for four years at the University of Exeter, starting fieldwork on Tory Island – a remote Gaelic-speaking community off the coast of Donegal in Ireland, and writing his first museum-series publication: Kinship and Land Tenure on Tory Island. His work on the island eventually resulted in a book The Tory Islanders: A People of the Celtic Fringe (1978), for which the University of Ulster awarded him a doctor of science (D.Sc.) degree. He returned to the LSE for four more years, lecturing mainly on kinship, and producing the widely used text Kinship and Marriage: An Anthropological Perspective (1967.) He published what became a seminal paper "Sibling Incest" in the British Journal of Sociology (1962), where he revived the work on incest avoidance of Edward Westermarck and coined the term "Westermarck effect" (as opposed to "Freud effect"): a term now standard in anthropology.

Under the influence of such figures as John Bowlby, David Attenborough (his student for a while) Robert Ardrey, Niko Tinbergen, Desmond Morris (then curator of mammals at the London Zoo), primatologists John Napier and Michael Chance, and Canadian sociologist Lionel Tiger, he became interested in Ethology – the science of the evolution of behavior. He and Tiger wrote a paper on "The Zoological Perspective in Social Science" (1965.) This was one of the first salvos in the great debate on the nature/nurture issue that was to flare up in the sixties and seventies. He and Napier jointly taught a course on non-human primate societies, the first of its kind at the School. He and Tiger helped Attenborough and Morris launch their venture into human behavior in their LIFE: In the Animal World, BBC TV program. During this time he saw three daughters into the world, Kate, Ellie and Anne. (See the dedication to Encounter with Anthropology.)

Rutgers University offered him a chair of anthropology in 1967, and the chance to start a new department, including Tiger. This has grown to be a major research department and graduate program. In 2010 its two degree programs (evolutionary anthropology - including the Center for Human Evolutionary Studies, and cultural anthropology) were ranked in the top ten in the country by Academe, the journal of the American Association of University Professors. He and Tiger completed their joint work, The Imperial Animal, in 1970, a book that galvanized the nature/nurture debate and provoked a mix of enthusiasm and vituperation. He spent an academic year at Stanford University School of Medicine (Department of Psychiatry) as an NIMH special fellow, studying behavioral biology and the brain with David Hamburg and Karl Pribram.

In 1972, The Harry Frank Guggenheim Foundation, through its president Mason Gross (ex-president of Rutgers) made them joint Research Directors, and started a program of support for work particularly on violence and dominance. (See "Guggenheim Foundation")The list of their grantees is a Who's Who in the early development of what came to be known as Sociobiology: E. O. Wilson, Jane Goodall, Richard Dawkins, Robert Trivers, Napoleon Chagnon, Michael McGuire (who discovered the correlation between rank and serotonin), Robert Sapolsky, Martin Daly, and Herb Terrace and the chimpanzee Nim. It also included such people as Daniel Kahneman, who received the Nobel Prize for economic sciences in 2003, Eugene Redmond and the now famous International Primate Research Center on St. Kitts WI, and leading kin-selection theorist W. D. Hamilton with whom he helped to found the Human Behavior and Evolution Society (1988).

He and Tiger worked for twelve years with the Foundation, sharing time with Rutgers, and during that time he did original research among Macaque monkeys on an island off Bermuda, with Dieter Steklis, and produced several books including Encounter with Anthropology, Biosocial Anthropology (editor), The Red Lamp of Incest, and Neonate Cognition (edited with Jacques Mehler of CNRS.)

During this same period he was a visiting professor at Oxford (Institute of Social Anthropology), Paris (Ecole des Hautes Etudes en Sciences Sociales), California at San Diego, and the Universidad de los Andes in Bogatá, Colombia, where he did a participant observer stint as a bullfighter. (See "The Bulls" in Participant Observer.) In 1985 Rutgers made him a University Professor, the highest honor it can give a faculty member. He wrote The Search for Society, his "equal time response" to the interpretive anthropology of Clifford Geertz, and The Violent Imagination, a book of essays, verse, satire, drama and dialogue.

He was then a Senior Overseas Scholar at St. John's College, Cambridge, and wrote a series of related collections of his essays. The first was Reproduction and Succession, relating his part in both the appeal of a Mormon policeman to the Supreme Court, and the famous "Baby M" surrogate-mother trials in New Jersey. Then followed The Challenge of Anthropology, and Conjectures and Confrontations. In 2001 he added significantly to the material in The Violent Imagination, plus a foreword by his neighbor and friend Ashley Montagu, which came out as The Passionate Mind. He has published a number of papers on contemporary affairs in The National Interest – nationalism, the nature of war, the Northern Ireland problem, and a series of exchanges on human rights, with Francis Fukuyama and Amnesty International ("Is there a human right to revenge?")

**********************************************************

(Now I am in my own voice again.) The dry bones of biography do not convey the richness and excitement of a life lived between the two worlds of Europe and America, and among some of the most energizing ideas of the century. To try to capture some of this I have completed a memoir of the first forty years of my "accidental life," called Participant Observer: Memoir of a Transatlantic Life (see "Participant Observer" under "Publications").

Readers may note in glancing at my CV that 1997 and the years after showed a break in active participation in the academic world. The 'reactive arthritis' (it used to be called 'Reiter's Syndrome') that had first been diagnosed in my late thirties became a total hindrance to travel and adventure and led to heart problems that laid me pretty low and left me weak. Enough of that, but curious readers might wonder so I tell it. It cut me off from several interesting possibilities like the Board of the Max Planck Institute for Evolutionary Anthropology in Germany which required too much travel. It coincided with my distancing from the American Anthropological Association and its continuing retreat from science and its political persecution of Napoleon Chagnon.

Meanwhile I live near Princeton, New Jersey, on a small farm (corn, rye, soybeans, timber, bees, wildlife - including a family of foxes, a herd of deer and a clan of marauding woodchucks) with my wife Lin, a former associate professor of health sciences at Kean University NJ. (See the dedication to The Passionate Mind. - originally The Violent Imagination). We have a winter retreat on Sanibel Island in S. W. Florida, where I pursue a research interest in the archaeology of the Calusa Indians with the help of local boatmen and sailors. When not working I try my hand at art (pastel and watercolor - see "Verse/Art"), music (choral singing - from barbershop to oratorio, classical guitar, songwriting,) and follow college football, especially the Scarlet Knights: an acquired passion replacing ancestral Rugby.

Lin, who was a longstanding member of the U. S. Green Building Council, developed a project to educate us on "The Healthy House." Two of my daughters, after education in England, France, the USA and Ireland, live and work in England. Kate is a director of the Social Issues Research Center in Oxford, and has written a best-seller: Watching the English. Kate is married to Henry Marsh CBE, who was the subject of the award-winning film The English Surgeon and is now the author of the best-selling memoir Do No Harm, and its sequel Admissions. Anne, having studied Russian at George Washington University and in the old USSR (Leningrad State University) founded and runs Galahad SMS Ltd., a social-science research firm. She has completed a doctoral dissertation for London University on the drinking culture of the British army, and produced my latest grandson. Ellie lived for nine years in the Bekaa Mountains of Lebanon with her husband and my other four grandsons (and now two great-grandsons). She and they speak fluent Arabic. They were rescued from the beaches in the great escape of 2006 and now live in New Jersey. (See the dedication to Reproduction and Succession.)

I have recently worked on a revised view of the advantages of inbreeding and the relationship between consanguinity and fertility (with M. L. Herbert) , on animal dispersion and human sectarianism, and the origins and failures of civilization. I have, thanks to the courageous work of younger scholars, found a renewed interest in Amerindian languages and what they can tell us about the history of the American Southwest. I have most recently taught courses on the history of anthropology, comparative mythology, incest in literature, and American Indians (see "Courses.") My latest book is The Tribal Imagination: Civilization and the Savage Mind (Harvard 2011.) (See "Publications")

I am also working on my interest in the Shakespeare authorship question ( I favor Edward de Vere, the 17th Earl of Oxford, as the alternative candidate) especially his possible education and the role of the Grammar Schools in the making of the Tudor miracle and the modern world. A book of essays on the issue has been published as Shakespeare's Education. A festschrift edited by Michael Egan is called The Character of Human Institutions. (See "Publications")

In response to the events of 9/11, I became an American citizen in 2002: better late than never. I am deeply fond of, and grateful to, the USA, and especially Rutgers (where I have spent the last 50 years and only reluctantly mooted retirement ) for the chances and rewards it has given me, while never losing my affection for my native British Isles. To crown the whole unlikely episode, in April 2013 I was elected a member of the US National Academy of Sciences, the highest honor the national community of scientists can bestow: an especially moving moment of acceptance and recognition for an immigrant!

I hope you enjoy my ideas and read my books. Thank you.
"If you wish to be believed you must accept the burden of falsifiability. You must accept that your statements are hypotheses that are in principle subject to refutation. If you refuse to accept this burden, on any grounds whatsoever, then there is no reason why we should pay any further attention to anything you say, since you could just as well utter complete nonsense or gibberish; it would make no difference." (Conjectures and Confrontations, 182, quoted on website of David Jenkins.)

Top Withins today. The roof is gone. The trees and moors remain.

Some Personal Pictures: since I don't have social media.

With Lin, 25th wedding anniversary
With Anne, Kate and Ellie, 80th birthday, 2014


With Alexander on the farm, looking for bobcats.


The Family: four generations down to Jason and Priya (and now Aidan).
Including Lin's mother, we have five living generations

Jason and Aidan, who are Anglo-Irish-Welsh-Lebanese-Punjabi-American
Children of the Twenty-first Century



Some more (intellectual) biography taken from a draft for The Tribal Imagination.

***

A little background is in order to put these essays into context, both personal and professional. I have been intrigued by the rise and fall of civilizations since a schoolboy interest in Arnold Toynbee in post WWII England, when we were desperate to know what went wrong. A second-hand copy of the abridged edition of A Study of History was the most thumbed and annotated tome in the small collection that my very small allowance permitted. This was augmented by Edward Gibbon's Decline and Fall of the Roman Empire (school library) and H. G. Wells' The Outline of History (a gift from my mother), and the game was afoot.

Also, a short time later, I bought at a second-hand book-stall in Ireland two precious volumes of Montesquieu's The Spirit of Laws. (The bookseller had no idea of their value.) This was an English translation published in Dublin in 1751, with "corrections and additions" by the author, and bearing the owner's signature "Henry Hamilton 1776." (The Hamiltons were a prominent Scots-Irish family, but the notorious Governor Henry was off fighting the American Revolutionaries in Canada on that date. Could it have been his father who was aso Henry? No. He died in 1743. Mystery.) These leather-bound, faded volumes seemed to speak to me directly from the eighteenth century as I struggled to understand them. They gave me an emotionally powerful connection to the philosophers of the Enlightenment and their driving ambition to find the causes for the rise and decline of civilizations.

What was civilization? Was its appearance inevitable? How had it risen from the primitive tribal condition and why did it seem so vulnerable and so inevitably to fail? Was civilization indeed an advanced stage that left the tribal behind, or was the tribal always with us in some form, beckoning us back? How far from the tribal state could we stray without going adrift and foundering? For Toynbee the threatening tribes on the fringes of civilization (the "external proletariat") were never so dangerous as the "failure of will" inside civilization itself.

Well-stocked public and college libraries sent me to Schopenhauer and Nietzsche, to Hegel and Marx (and more interestingly Engels), to Sartre, Schweitzer, Freud and Spengler, and produced a lot of information and even more puzzlement. I was immensely fortunate to find a sympathetic degree course in sociology at the London School of Economics in the early 1950s. We were encouraged to read the philosophers of history even though the prevailing empiricism did not hold their methods in high regard. I had to deal directly with Karl Popper and his criticisms of Historicism. I was smitten with Popper and took his point, but still thought the questions could be asked in a way that was subject to falsification. Popper himself, as we shall see in Chapter 12, asked them in his own way, which became my way.

I did not find either British Empiricism or Continental Existentialism much help in this matter, but I did find the Sociology of Knowledge and Comparative Sociology more than enough to compensate. I was led to Max Weber and Herbert Spencer, to Emile Durkheim and the developmental anthropologists, particularly E. B. Tylor and James Frazer. I was in fact specializing in social anthropology, but found to my disappointment that in the form of Functionalism it had not only abandoned the questions that drew me to the study of the tribes, but it positively banned them. There was no point, I was told, in dealing with known error, however interesting it might be. So Freud and Jung were out too. Meanwhile I was almost embarrassingly over educated in scientific method, statistics, social psychology, criminology, demography, moral and social philosophy, and, of course, economics.

At Harvard in the late 1950s, in Talcott Parsons' gallant attempt to create an integrated social science, I found the questions still alive among the Americans, (Sorokin, Kroeber, Steward, White.) Freud was front and center, but mostly the clinical Freud not the philosopher of history. In any case I got skillfully sidetracked to the Pueblos of the Southwest and socio-cultural anthropology and, to be fair, it has made me a decent living. But the questions still nagged. As I watched anthropology drift further and further away from them, I finally, in the London of the 1960s, discovered Darwin and the relevance of Darwinism to the questions. It was meeting John Bowlby, Desmond Morris and Lionel Tiger that gave me the nudge that turned into a push that became a vocation. (See Participant Observer for details.) Anthropologists, embarrassed by the laissez-faire capitalist propaganda of Social Darwinism (so-called) and by the ugly use of Darwinism in Germany and among advocates of racism generally, scooted in the other (ideologically safer) direction, energetically disavowing their own heritage and their purpose and status as a science.

But my curiosity was still there with Toynbee and Spengler and Spencer and Morgan, with Freud and Popper and all those for whom the question of the origin, nature and viability of civilization was an issue that could not be avoided. I found through the amazing upsurge of developments in social biology and evolutionary science, combined with comparative ethnography (anthropology's precious archive of human social behavior in pre-literate societies) a route back to the question of civilization and the savage mind. I have been exploring it ever since. What we have in this book (Tribal Imagination) then, are a few more explorations in that same direction.

_________________________________________________________________
________________________________________________________________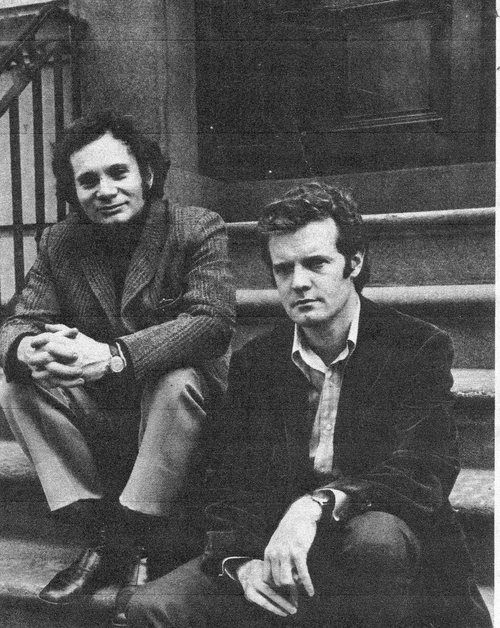 Tiger & Fox, New York, 1970
Top Withins - the inspiration for Emily Brontë's
Wuthering Heights, near the village of Haworth, W.Yorkshire, UK. (Photo c. 1930) The landscape of early childhood.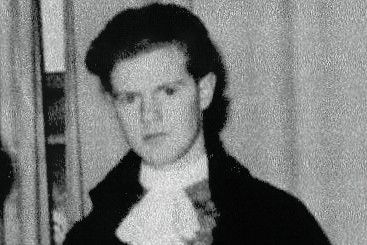 School Play: (At Thornton G. S.) Young Marlow in Goldsmith's She Stoops to Conquer - c.1950


TGS alumna
Billie Whitelaw
"The perfect actress"
Samuel Beckett
LSE, London, Houghton Street, Aldwych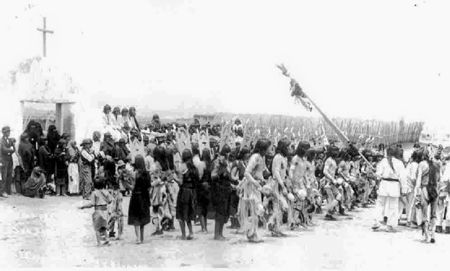 Pueblo Indian Corn Dance (Cochiti NM)

Tory Island - approach from the mainland (Donegal)
David Attenborough
(Getty Images)
Desmond Morris and Friend

Bermuda Macaques (Stumptails)

"El Gringo Blanco"
Novillado in Mario Laserna's ring
Altamira de Coelho, Calí, Colombia, 1982

With the King of Tory Island, Patsy Dan Rogers (Padraic Domhnal MacRuaraigh), U of Ulster, 1997
RUTGERS, Old Queens, Winter.
Olivetti Lettera. On one of these beautiful machines the early stuff was written, during sandstorms in the desert Southwest of America and gales in the Atlantic Ocean off the west coast of Ireland. The prototype is rightly on exhibit in MoMA, NYC. Mine (a 21st birthday present from my parents) was stolen in a burglary in Princeton NJ. I still miss it.
First intercollegiate football game:
Rutgers vs Princeton 1869,
Rutgers 6 Princeton 4
With Alex (grandson) on Johnie's Honda

Henry (son-in-law) preparing to operate.
New York Times



Aboard the LunaC in Pine Island Sound FL.

Gift to me from Geeta and the family when in recovery from heart surgery (2016) and bearded like the pard.



Man the Hunter
Priya and Uncle Lionel
Local Bambi. We love our deer but they carry the Lyme Disease tick. We love them at a safe distance.
Imperial Animal - Japanese Vol.1
K & M French edition
Gaillimard Les Essais CLXVII

Bibliographical Bio

The following section was written for the "Prologue" to The Tribal Imagination —it was intended to show how Robin Fox's other works were a prelude to this latest book. In the end it was not included, so we can use it here to fill in the details and bring the story up to date (It was included in The Character of Human Institutions, edited by Michael Egan.) At the end is a review of Hank Whittmore's book on the meaning of "Shakespeare's" sonnets, to represent that area of my interests.

"Many of the things I have written earlier would sit hap­pily with this volume in spirit if not in detail (new findings pour in daily). These perhaps start with my essay on "Sib­ling Incest" in 1962 where I proposed a "law" of incest avoidance (see the chapter by Maryanski and Turner here) and tried to reconcile Freud and Westermarck on the incest taboo. This was followed by Kinship and Marriage (1967) a book mistakenly assumed by many to be a "textbook" conveying received wisdom. While it is an introduction to the study of kinship it is also an original contribution which argues that human kinship rests logically on the playing out of four simple premises: (1) women bear the children, (2) men impregnate the women, (3) men exercise control, (4) primary kin do not mate with each other: gestation, im­pregnation, domination & hybridization. The basic human relationship, I argue, is the mother-child unit not the nu­clear family. This position, was arrived at on logical not biological grounds; it was nevertheless dear to John Bowlby, the Darwinian psychoanalyst who had introduced me to the idea of Ethology—the science of the evolution of social behavior. He liked a paper I had written on the suc­cess of healing rituals in the Pueblos (1960), but insisted I should understand the evolution of the emotions that these rituals tapped into. I never looked back.
"All of The Red Lamp of Incest, for example, where I maintained, following Freud and triangulating him with Darwin and Lévi-Strauss, that 'we constantly reproduce that which produced us' belongs in this company. I tried to marry Freud (on the emotions) and Lévi-Strauss (on the intellect,) to the process of evolution and what we then knew of primate behavior and behavioral neurology. I ar­gued that the crucial factor in human evolution—and par­ticularly the rapid evolution of the brain—was the growth of neo-cortical control over the emotional system. This was an outcome of the struggle between older and younger males for control of the females, and was the source of the arch-rule of the incest taboo. This process underlay the pro­pensity to make and follow rules in general and kinship rules in particular. It was, as the subtitle says, "the origin of mind and society," and much of what is constant in hu­man mental and social systems derives from it.
"Most commentators, even the friendly ones, didn't seem to get it, treating the book solely as a contribution to the incest question rather than the question of the evolution of mind and the force of the moral imperative: the question posed by Hume to Kant, Kant to Durkheim, Durkheim to Bergson, Bergson to Lévi-Strauss…The Harvard philoso­pher Willard van Orman Quine however thought the chap­ter on 'The Matter of Mind' was completely compatible with his own materialist views on the subject. Mind as we know it had to come from somewhere. The edited volumes Biosocial Anthropology (on primate kin and human kin­ship) and Neonate Cognition (where I inverted Descartes: 'Sumus Ergo Cogitamus') belong here, as does the early collection Encounter with Anthropology ('The Cultural Ani­mal'). The Keresan Bridge (1967), while concerned with a seemingly narrow problem in Pueblo ethnology (and the famous puzzle of 'Crow-Omaha' kinship systems) still stresses the fact that human kinship systems evolve in pre­dictable patterns and that we cannot escape the deep-time dimension by a simplistic appeal to social functions or ac­culturation.
"The essays from Reproduction and Succession on 'The War between Kinship and the State' (Mormon polyg­amy, surrogate mothers, Greek tragedy, especially Anti­gone, and the avunculate—the special relationship between a man and his mother's brother) have a place here. The book was in fact a commentary on Sir Henry Maine's the­ory of the historical shift from the law of status to the law of contract. The Search for Society, where it was the issue of 'Consciousness out of Context'—my own phrasing of the 'novel environment hypothesis'—also belongs. The further we move away from the Paleolithic norm, the more extreme become the conflicts that consciousness faces.
"I introduced the idea of the 'ethosystem' in which the organism and the environment that it modifies with its be­havior, exist in a positive feedback loop: an idea that has been re-invented recently as 'niche creation.' I tried to trace the history of ideas on individualism and society to see where the empiricism, progressivism and relativism of the social sciences came from. I started with Bacon, Hobbes and Locke and the idea of the mind as a tabula rasa—a blank slate, and hence the hostility to 'innate ideas' (or in­nate anything). In the process I tried to reconcile the divi­sion between the Durkheimian and Darwinian views of so­cial life—a division which underlies the schism in the social sciences, by showing how "social facts" can also be bio­logical facts. There also I defined instinct as 'the organ­ism's demand for an appropriate environment.' An inap­propriate environment can wreck the patient work of natu­ral selection. Nature and nurture need each other; there is no 'nature/nurture question' except for the question of how they interact.
"In place here would be the subjects from Conjectures and Confrontations: bureaucracy, nationalism, innovation, self-interest, sexual conflict in literature, the moral sense, and left-wing archaeology. In 'The Biosocial Orientation' I invoked Robert Merton's distinction between 'theory' and 'orientation' and it holds here. I am not pushing any kind of systematic theory, only suggesting an intellectual orienta­tion, which may draw on many theories. Go where the questions lead; use what theories and data you need. Add also the essays on food, sex, orgasm, incest, menstruation (in Macaques), aggression, myth, rules and war in The Chal­lenge of Anthropology, where I re-iterated my 'law of the dispensable male.' This book includes my personal fa­vorite: 'Prejudice and the Unfinished Mind,' which held that prejudice is not so much an abnormal form of thinking as thinking is a normal form of prejudice.
"That particular essay took off from the early work of Nobel laureate Daniel Kahneman and his colleague the late Amos Tversky, which was revealed to me in Jerusalem. There (in the essay, not in Jerusalem) I investigated, with the help of David Hume, Paul Robeson, Charles Lamb, Cap­tain Kirk, and Mr. Spock, four insistent mental Drum­beats. These are: (1) that we must make causal connections; (2) that we must attribute responsibility for actions; (3) that we must think in terms of stereotypes; (4) that we must pre­fer intuition to logic in uncertain situations. Note the 'must'—that is the link and the nub.
"Even The Tory Islanders , a study of the social structure of a remarkable Irish island people, fits in here. At its core is the analysis of how family, clan, marriage and household articulate around the inheritance of land and the manning of boats. The fulcrum on which this pivots is the brother-sister bond and the mother-child bond, and the tension between the consanguine family and the necessity of marriage: many married couples did not move in together; each part­ner stayed in the natal home— 'natolocal residence.' It thus explores these universals in their Celtic particulars.
"The verse, drama and essays in The Passionate Mind (incorporating The Violent Imagination) have their place on the list, perhaps especially the dialogue 'Design Failure' on the tyranny of ideas, and the opener on 'The Conference of Foules' where the battery hens gather to analyze their sad condition, or the story of the crucial stages in evolution told in 'Evolutionary Poetics.' My personal favorite is 'The Je­sus Tapes: We Are Not Alone'—a blank-verse monologue in the style of Browning where Jesus is revealed to be an alien spirit trapped in a human body in a vain attempt to elevate mankind. Jesus has little sympathy with anyone ex­cept Pilate and Judas. The readers might prefer 'The Trial of George Washington'—which is what it says. The trial is for treason of course.
"And there is always the impudent attempt to solve it all at one fell swoop that Lionel Tiger and I bounced off the world in The Imperial Animal (1970), in those verdant years when it all looked so temptingly easy. Our notion of a 'behavioral biogrammar'—inspired by Noam Chomsky's theory of gen­erative grammar, (we even proposed a 'culture acquisi­tion device') was not so far off the mark. The basic gram­mar of behavior was given by evolution but it could pro­duce an infinite number of behavioral languages. This might have been a better model than the 'software' analo­gies that became popular with the advent of computers, al­though we couldn't resist the metaphor of behavioral in­structions as being 'in the wiring' of human nature.
"Much of what follows in this book is about what Tiger and I called 'behavioral gibberish.' This results when you feed organisms information that does not accord with the biogrammar. Garbage in: gibberish out. We looked at the 'primate baseline' and its transformation by the 'hunting transition' to what was the human default system of tribal society and mentality. Then we tried to see how the indus­trial world was either in synch with or inimical to this de­fault system. It is that simple and that complicated. Our epigraph from Jacques Monod's Chance and Necessity, that 'every living being is also a fossil' is at the very heart of it. We put it in French because Monod's book hadn't been translated when we were writing. This gained us no brownie points with the yahoos of course, who saw it as up-front proof of our unregenerate élitism."